News
Spinach-Mushroom Stuffed Chicken
Date: 01/06/20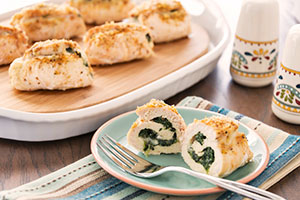 (Serves 4)
Elegant and easy — now there's a winning combination! Whether it's for your family or company, this all-in-one meal is a keeper for weekends or the work week. (It only takes about 20 minutes to prepare). Each stuffed chicken breast has just 205 calories, 70 mg cholesterol, 8 g total fat, and 290 mg sodium, with 360 mg potassium and 27 g protein. If you're thinking sides, brown rice would pair up nicely with this dish, or you could always add in another veggie, if desired.
Ingredients:
1 nonstick cooking spray
1 tbsp. olive oil
1/2 cup frozen spinach (chopped, thawed, and drained)
1 cup white (button) mushrooms (finely chopped)
1 clove garlic (minced)
4 chicken breasts (4-ounce each, skinless, boneless)
4 low fat creamy Swiss garlic and herb cheese (wedges)
¼ tsp. black pepper
½ tsp. paprika
4 toothpicks
Preheat the oven to 350 degrees F. Spray a baking dish with cooking spray. Add the oil to a medium sauté pan over medium-high heat. Add the spinach and sauté for three minutes. Add the mushrooms and cook an additional four to five minutes. Add the garlic and sauté for 30 seconds. Place one chicken breast on a cutting board and cover it with plastic wrap. Pound the chicken with a meat tenderizer or rolling pin until it is about 1/4-inch thick. Repeat this process for the other three chicken breasts. Spread one Swiss garlic and herbed cheese wedge on one side of one chicken breast. Spread 1/4 cup of the spinach mushroom mixture on top of the cheese. Roll the chicken breast and secure the seam with a toothpick. Repeat this procedure for the three remaining chicken breasts. Sprinkle the chicken breasts with pepper and paprika. Place the rolled chicken breasts on a baking dish, and bake for 30-40 minutes or until done. To serve, remove the toothpicks and slice each breast into five rounds.
Recipe adapted from www.diabetes.org
This information is not intended as a substitute for professional medical care. Please always follow your healthcare provider's instructions. Programs and services are subject to change. Managed Health Network, LLC (MHN) is a subsidiary of Health Net, LLC. The MHN companies include Managed Health Network and MHN Services, LLC. Health Net and Managed Health Network are registered service marks of Health Net, LLC or its affiliates. All rights reserved.