News
What's Your Risk for Cervical Cancer?
Date: 01/06/20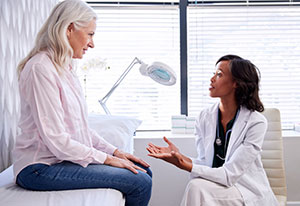 The good news is that the cervical cancer death rate is down by more than 50 percent over the last 40 years. Early detection is key for this cancer that can start in the cervix (the lower part of the uterus or womb): Pap test screening to detect the human papillomavirus (HPV) in its early, curable stages can take credit for that. The bad news? The latest accessible figures from the American Cancer Society predicted that 13,170 cases of cervical cancer would be diagnosed in 2019, with about 4,250 expected to die of the disease by year's end. Women must stay up to date on ob-gyn visits, get tested within their doctor's recommended guidelines, and reduce lifestyle risk to prevent the disease.
Risk factors for cervical cancer include:
African-American, Asian, Hispanic, Pacific Islander, or white under age 50
Being sexually active and exposed to the human papilloma virus (HPV); chlamydia, a common sexually transmitted disease (STD) that can affect both men and women; or the hormone diethylstilbestrol (DES), a lab-made form of the female hormone estrogen. (Prescribed to pregnant women between 1940 and 1971 to prevent premature labor, plus prevent miscarriage and related complications of pregnancy, the FDA stopped its distribution after 1971 due to cancer risks.)
Not having a timely Pap test
Long-time use of birth control pills
Younger than 17 for a first-full-term pregnancy
Multiple full-term pregnancies
Diet low in fruits and vegetables
Overweight
Smoker
Weak immune system
Family history of cervical cancer
If you're younger than 20 and over age 50 you can still get cervical cancer. Native American and Alaskan natives are at lowest risk (but still need to be careful to avoid getting it).
The National Cervical Cancer Coalition estimates that 79 million Americans have HPV at any one time. In fact, most sexually active persons have had harmless HPVs (a normally healthy immune system usually clears them out). The best defenses against cervical cancer are the Pap test (starting at age 21 up to age 65 every three years), the HPV vaccine, and HPV test, using condoms for safe sex, and not smoking. Experts recommend a Pap/HPV co-test for women age 30 and above every five years. If your doctor has concerns, they may want more frequent screenings. Both the American Cancer Society, and the Centers for Disease Control and Prevention (CDC) recommend that routine HPV vaccinations for girls and boys begin at age 11 or 12. (The shot can be given as early as age nine, especially to children with a history of sexual abuse or assault.) Your doctor will know the right vaccine schedule depending on age and dose. Ask about specific guidelines for people with allergies, or those who are pregnant.
You can't change family history. But you can reduce cervical cancer risk through healthy lifestyle choices, screenings, and vaccines, to stop the disease before it starts.
Find a cervical cancer and HPV support group at www.inspire.com/groups/national-cervical-cancer-coalition/.
By Lisa Miceli Feliciano
Sources include: www.cancer.org, www.cdc.gov, www.nccc-online.org
This information is not intended as a substitute for professional medical care. Please always follow your healthcare provider's instructions. Programs and services are subject to change. Managed Health Network, LLC (MHN) is a subsidiary of Health Net, LLC. The MHN companies include Managed Health Network and MHN Services, LLC. Health Net and Managed Health Network are registered service marks of Health Net, LLC or its affiliates. All rights reserved.