News
Your Good-Health Checklist
Date: 01/06/20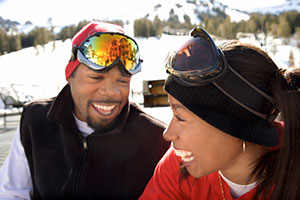 It's easy to drop the ball on good health from time to time. The good news is that each day offers a fresh start! So take a moment to "spot-check" where you stand with your overall fitness. There's no better time to begin setting a new game plan in place, with the New Year just about to roll in:
Keep current with preventive exams. Don't neglect annual physicals, ditto those for eyes, your six-month dental checks, as well as the dermatologist for the "mole patrol." (Consult your doctor for the frequency that's recommended for you, impacted by current health and family history. That's especially key for mammography and skin checks).
Eat a healthy, balanced diet. Check out a favorite cooking show or online source for flavorful good-for-you meals and snacks. Try a new veggie or whole grain! Control portion size, fat, and sodium. Read nutrition labels carefully.
Move it! The goal for adults is 150 minutes of exercise per week (that's 30 minutes daily, five days per week), so find something that you like and can stick with, indoors or outside. (Try for at least three days a week and work up from there!)
Quit smoking. Do it now. Quitting will have numerous immediate and long–term health benefits for your quality of life, and potential longevity.
Get enough sleep. Adults generally need seven to eight hours of sleep each night to feel fully rested. If you're having trouble falling asleep, make your room an oasis from stress and trade electronic devices for relaxing "tea time" or easy stretching before bedtime, to unwind and re-charge you.
Wash your hands. Get rid of germs at home and at work. Lather up and rub for at least 20 seconds before you rinse. Carry hand sanitizer when on the go. Surfaces like desks and doorknobs, gas pump handles, and shopping carts are catch-alls for germs, so avoid touching your eyes, nose, or mouth to prevent spreading.
Get a flu shot this year. (Still haven't gotten around to it?) Speak to your doctor about the vaccine's benefits and risks for you. There's no guarantee that you won't get the flu, but getting vaccinated can reduce the risk and severity, if you do get sick. (January and February are prime times for this virus to spread.)
Bring balance back. Experts agree that a positive outlook (including good relationships, laughter, and coping mechanisms like deep breathing, meditation, and exercise) can help lessen stress. They also bolster the immune system when it comes to fighting illness and recovery time.
See your doctor for more individualized tips, and remember: If you fumble, you can always pick up the ball again and score!
By Lisa Miceli Feliciano
Sources include: www.cdc.gov, www.mayoclinic.org
This information is not intended as a substitute for professional medical care. Please always follow your healthcare provider's instructions. Programs and services are subject to change. Managed Health Network, LLC (MHN) is a subsidiary of Health Net, LLC. The MHN companies include Managed Health Network and MHN Services, LLC. Health Net and Managed Health Network are registered service marks of Health Net, LLC or its affiliates. All rights reserved.