News
Dig It: Gardening Zen and Safety
Date: 06/01/20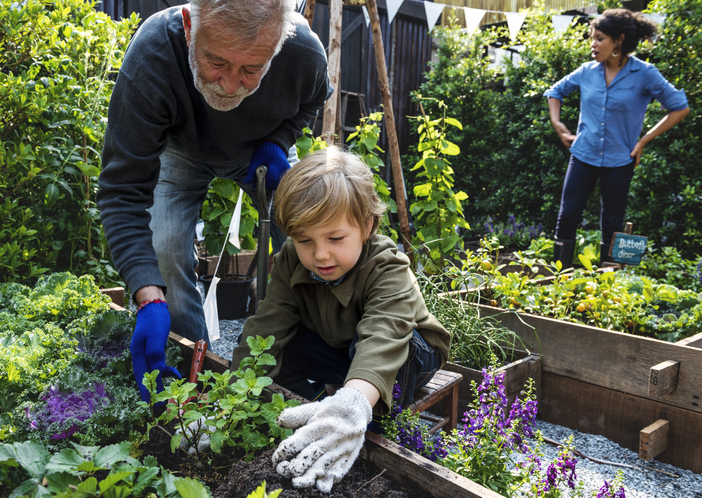 The early English poet Alfred Austin once said, ". . . To nurture a garden is to feed not just on the body, but the soul."
There's always been something very real, and well, very down to earth, about feeling the dirt between your fingers, planting a seed, and watching it grow, whether it's a tulip or a tomato. If you enjoy the outdoors, gardening can be one-stop shopping for gently increasing some activity, taking in a little vitamin D (with sunscreen, of course), watching the nature show of birds, butterflies, and more, and also reaping the fruits of your labor — be they flowers, fruits, or veggies.
Turns out, gardening is not only a sensory experience, it's very therapeutic too. It's a means to get Zen and slow things down a bit, allowing yourself to relish all of the little moments that can get lost in the daily shuffle. Pull some weeds and let go of the stresses of the work week. Focus on the oasis that you're creating versus those best laid plans that fell apart last weekend. Design your landscape, keeping color variation and shape in mind. Get creative!
Plant vegetables to create wonderful salads. Imagine the bounty of superfoods, from arugula to spinach, fresh for the plucking — and at a savings, too, versus buying them at the store! Prefer flowers? Take your pick, just beyond your back door, and arrange away.
Just bend at the knees when lifting, and use a garden mat for kneeling. Your shovel should be in proportion to your body and height. Be sure to read manuals, wear protective gear like goggles, gloves, plus sturdy shoes, and operate machinery carefully, to avoid lawn mower or garden tool injuries. Keep kids and pets safely out of harm's way! Insect repellent is key, and so is, again, sunscreen (go for an SPF of at least 30 or higher, especially if you live in southern regions), along with wearing a hat (and sunglasses, with 100 percent UVA/UVB protection). Wear long sleeves, long pants and socks to ward against ticks, and give yourself the once-over check for "passengers" before going inside! Drink plenty of water while you're out there, and avoid the sun at peak periods.
Whether it's a container garden on the deck or a few feet of soil with some scattered stones, meditate on the positive and the possibilities, dream big, or simply focus on the flower in your hand.
No matter what you choose to ponder while gardening, this is your escape, in your own backyard.
By Lisa Miceli Feliciano
Sources include: www.cdc.gov, www.cpsc.gov
This information is not intended as a substitute for professional medical care. Please always follow your healthcare provider's instructions. Programs and services are subject to change. Managed Health Network, LLC (MHN) is a subsidiary of Health Net, LLC. The MHN companies include Managed Health Network and MHN Services, LLC. Health Net and Managed Health Network are registered service marks of Health Net, LLC or its affiliates. All rights reserved.