News
Slime Party - Because Slime is Fun for Adults, Too!
Date: 08/07/20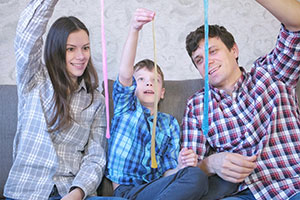 Are your kids obsessed with slime? Great news: slime is for both kids and adults, too! Make slime at home using simple ingredients that you can easily measure and mix. Making slime is a fun and creative activity for you and your children.
What is slime?
Slime is a gooey substance that's soft and stretchy. You can shape it, stretch it, expand it, lump it together, twist it, squeeze it, or pull it apart. It takes less than ten minutes to make, and the kids will enjoy playing with it for hours. Get as creative as you'd like by adding colors, glitter, and decorating it with foam balls, buttons and more.
How does slime help with mental health and anxiety?
Slime can be very therapeutic to play with for both kids and grownups. Use your hand to squeeze the slime in your palm, then release it by relaxing your fist and wrist muscles. Squeezing slime over and over again directs your focus and attention to the slime. It may also help to appreciate the beauty of your slime to start having fun with it – it helps you think positively and distract you from negative thoughts or feelings. Playing with slime helps take your mind off what stresses you out and brings a sense of calmness.
Here are the ingredients you'll need to make a kid-friendly slime:
Elmer's glue or any safe, nontoxic PVA glue (½ cup or 7-8 ounces)
Baking soda ½ teaspoon
Contact solution (1 to 2 tablespoons)
Food coloring (1 or 2 drops)
Baby oil (optional)
Scent, glitter, buttons, foam balls (optional)
Directions:
Using a large bowl, pour ½ cup (approximately one bottle of 7-8 ounces) of white or clear glue. For a more transparent look, use clear glue.
Next, add ½ teaspoon of baking soda and 1 to 2 drops of food coloring. You can use any food coloring you choose.
The next step is optional. Add glitter, buttons, foam balls, or any scent of your choice (lavender may help with relaxation).
Mix well. The final ingredient will work as the activator to create the slime consistency. Squirt 1 to 2 tablespoons of eye contact solution and start mixing thoroughly. In a short time, you will see it the slime clump together.
Continue to add another squirt or two of contact solution, but be careful not to add too much or your slime will become too firm. An excellent way to know it's done is when the slime starts sticking to itself and not the sides of the bowl.
The next step is optional. Add a little bit of baby oil to help the slime from sticking to your skin and making it extra stretchy.
Now you have the perfect gooey, stretchy, highly addictive slime. It's a hit for kids of all ages!
By Jennifer Herrera
This information is not intended as a substitute for professional medical care. Please always follow your healthcare provider's instructions. Programs and services are subject to change. Managed Health Network, LLC (MHN) is a subsidiary of Health Net, LLC. The MHN companies include Managed Health Network and MHN Services, LLC. Health Net and Managed Health Network are registered service marks of Health Net, LLC or its affiliates. All rights reserved.
Sources: UCSD, Washington State University