News
Five Tips to Manage Your Mental Stress
Date: 01/05/21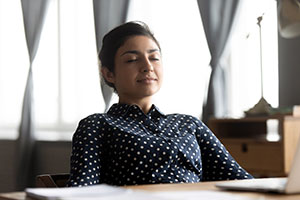 Stress is a natural part of our lives, but learning to manage the overwhelming times can help you have a healthier response. We have put together a few tips to help handle mental stress.
1. Have Healthy Habits. Excessive stress can take a toll on your body so it's important to develop healthy coping techniques to protect you from harmful effects. When you're feeling overwhelmed, take a minute to relax or organize your thoughts. Take a break from the stressor and do something that can help limit stress -- read a favorite book, try a new diet or exercise program, focus on getting quality sleep, or just pick up the phone and talk with friends.
2. Establish Boundaries. You may feel the need to be available at all hours and to always say "yes," but whether at home or work, try to keep a healthy balance. Set your own rules for taking breaks from your phone or computer to let your mind recharge. Stick to the schedule you create, and you'll find more stress-free time for yourself, family and favorite activities.
3. Pick Up on Patterns. Everybody has stressful days, but it's important to take note of what items or actions caused you to feel this way. Record what you felt and how you reacted during these times. Remember how you handled different situations and find patterns that will help manage your feelings in the future.
4. Surround Yourself with Support. Building a strong support system of trusted family and friends and knowing you have a listening ear will help you feel more relaxed. Meeting up with a friend or having a quick chat reminds you that there's always someone to listen and comfort you.
5. Find Fitness. A great way to take your mind off things and melt stress away is physical activity. Whether it's going for a run around the neighborhood, heading to the local gym or playing a favorite sport, exercising is a great way to help manage your mental and emotional health.
This information is not intended as a substitute for professional medical care. Please always follow your healthcare provider's instructions. Programs and services are subject to change. Managed Health Network, LLC (MHN) is a subsidiary of Health Net, LLC. The MHN companies include Managed Health Network and MHN Services, LLC. Health Net and Managed Health Network are registered service marks of Health Net, LLC or its affiliates. All rights reserved.