News
Five Ways to Ease Back to School Stress for Kids
Date: 09/01/20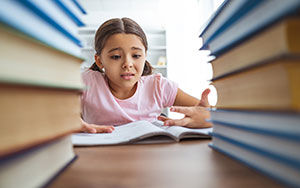 For many children, back to school can be a time of excitement and welcomed change. For others, it can create stress and anxiety. Whether you are getting back into an old routine, or establishing a new one, it's important to alleviate as much stress as possible to keep kids focused and encouraged to do their best. The health experts at Envolve, an integrated healthcare solutions company, have put together five ways to make back to school this season less stressful and more enjoyable for the whole family.
1. Reset Routine. Establish a reliable routine from those lazy days of summer! Research suggests that children perform better when learning and have better overall behavior when they have a schedule to follow. Even if the days get a little out of whack, try a solid morning and evening routine that your kids can rely on. It can be as simple as wake up, brush teeth, get dressed, feed pets, and eat breakfast together. This stability is a good way to start the day and gives your kids a reliable foundation, alleviating stress.
2. Provide Choices. Routines are important to maintaining chaos and creating structure, but giving your children the power of choice is also a valuable way to encourage independence and develop reasoning skills. Back to school is the perfect time to encourage your children to make their own choices – from selecting what to wear that day to choosing their own recreational activities. Even something as simple as picking out their lunch helps encourage independent thinking. Simple options where your children can feel in control will help reduce stress and promote confidence.
3. Feature Favorites. Many kids find comfort in familiarity, which can help reduce stress. Stress is not only psychological, but can also cause physical conditions like headaches and stomach aches. Having some of your kid's favorite things on hand as school starts will help keep spirits up and bring a bit of joy to the day. Even small things like a favorite snack or a folder with a favorite character can help kids find comfort if they are feeling uneasy.
4. Promote Prep. Having your children be active participants in preparing for back to school will help them feel ready and willing. Going through the class list of supplies and their class schedule and letting them select the items they need will give them a sense of control and readiness. Feeling anxious can cause your child to focus on the negative in situations and may impact how they learn. Proactively discussing and preparing for situations that may cause your child anxiety will help them feel prepared and ready to learn.
5. Shape Sleep Habits. Summer break can sometimes mean inconsistency in bed and waking times. Research suggests that not getting enough sleep impacts brain growth and development. Inadequate sleep also can lead to moodiness and the inability to focus causing social and learning issues. As you prepare your children for back to school, be sure to encourage consistent sleep habits. This can include calming activities before bed, a full bedtime routine, and a consistent bedtime to ensure your child gets the recommended amount of sleep for their age. For children, from ages 6 to 12, the recommended amount of sleep is between 9 and 12 hours each night.[1]
[1] https://www.cdc.gov/sleep/about_sleep/how_much_sleep.html
This information is not intended as a substitute for professional medical care. Please always follow your healthcare provider's instructions. Programs and services are subject to change. Managed Health Network, LLC (MHN) is a subsidiary of Health Net, LLC. The MHN companies include Managed Health Network and MHN Services, LLC. Health Net and Managed Health Network are registered service marks of Health Net, LLC or its affiliates. All rights reserved.