News
You Too Can be a Hero by Wearing a Face Mask
Date: 07/01/20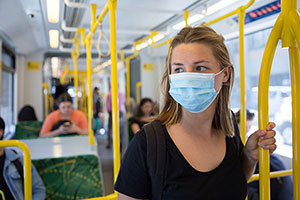 As more parts of the country reopen and more services become available, public health experts are asking people to wear face masks to help slow the spread of COVID-19.
But why are face masks so important? Why should we listen to this advice?
In short, face coverings are a low-tech and easy way to protect yourself and others from getting sick. That's right — it's not just yourself that you're watching out for, but also those around you!
COVID-19 spreads mainly through "respiratory droplets." These are made when you talk, sneeze, cough, or breathe heavily. If someone is sick, they can spread the virus to others through respiratory droplets.
That's where masks come in. Face coverings may slow the spread of the virus by stopping people from giving it to one another through respiratory droplets. If you're wearing a mask correctly, all of your breath is kept inside the mask. The same is true for people around you who are also wearing masks. That's why it's a good thing for everyone to wear a mask.
The CDC recommends that everyone over the age of 2 wear a mask when they're out in public. Children under age 2, people with breathing problems, and people who can't take off a mask by themselves should not wear a mask.
Mask Dos and Don'ts
When it comes to your face mask, wearing it the right way is just as important as putting it on when you go out. Here are some tips.
Dos …
• Wash your hands for at least 20 seconds before putting your mask on.
• Always wear a clean mask.
• Hold your mask by the ear loops or ties.
• Make sure your mask covers your nose and mouth, and fits under your chin.
• Check that there aren't any gaps on the side.
• Breathe normally!
Don'ts …
• Avoid touching the front of your mask or other parts of your face.
• Don't wear your mask under your chin, around your neck, on your forehead, or hanging from one ear.
• Avoid masks that are wet, dirty, or have already been used once.
• Don't share masks, even with family members!
When it's time to take off your mask, be sure to remove it the right way. Use the ear loops or ties to take the mask off. Don't touch the front of the mask. As you remove the mask, pull it away from your face. For reusable cloth masks, throw them in the laundry and wash with hot water. For disposable masks, please place in the trash. Wash your hands after taking your mask off.
Health experts are working hard to find better treatments for COVID-19. Until then, we can all do our part to slow the spread of the virus. Face masks are a great first step!
by Patrick Scalisi
Sources: CDC, WHO
This information is not intended as a substitute for professional medical care. Please always follow your healthcare provider's instructions. Programs and services are subject to change. Managed Health Network, LLC (MHN) is a subsidiary of Health Net, LLC. The MHN companies include Managed Health Network and MHN Services, LLC. Health Net and Managed Health Network are registered service marks of Health Net, LLC or its affiliates. All rights reserved.