News
No-Bake Chocolate Cherry Oat Bars
Date: 06/01/20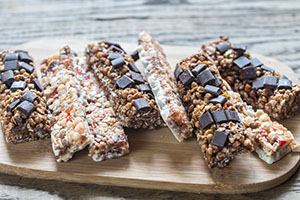 Here's a crowd-pleaser for kids and adults alike! This is strictly stovetop and mixing bowl prep, and because this recipe serves so many, you can store these chewy, chocolatey, whole grain treats in the fridge to eat over a week or so, as a sweet breakfast, afternoon snack, or dessert, without the guilt. Each cholesterol-free bar comes in at just 141 calories, 19 g carbs, 7 g total fat, 2 g fiber, 3 g protein, 83 mg phosphorus, 112 g potassium, and 9 g sugar. (Substitute gluten-free rolled oats and rice cereal, if desired.)*
(Serves 28)
Ingredients:
2 cups rolled oats
1 1/2 cups rice cereal
1/2 tsps. salt
1/2 cup peanut butter
4 oz. chopped 60-percent cacao bittersweet chocolate, or 3/4 cup chocolate chips
1/4 cup coconut oil
1/4 cup honey
1 cup (about 5 oz.) dried cherries
Line a 13" X 9" baking pan with parchment paper, leaving a bit of paper to hang over the sides. Combine oats, rice cereal and salt in a large bowl. Melt together peanut butter, chocolate chips, coconut oil, and honey in a saucepan over medium heat, stirring frequently. Pour wet mixture over oat mixture. Stir to combine. Stir in dried cherries. Pour mixture into prepared pan. Press to evenly cover the bottom of the pan. Chill for at least three hours. Remove from pan using the overhang of paper as handles. Cut into 28 bars. Store in the refrigerator until ready to serve.
*Substitutions may alter nutritional content.
Recipe source: www.eatright.org
This information is not intended as a substitute for professional medical care. Please always follow your healthcare provider's instructions. Programs and services are subject to change. Managed Health Network, LLC (MHN) is a subsidiary of Health Net, LLC. The MHN companies include Managed Health Network and MHN Services, LLC. Health Net and Managed Health Network are registered service marks of Health Net, LLC or its affiliates. All rights reserved.