News
Five Tips for Conquering Stress
Date: 10/01/20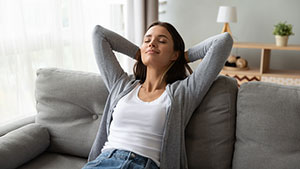 Stress is a part of everyday life, but knowing stress management techniques and coping mechanisms can help as you work through the ups and downs of life, and help you avoid impacts to your health. We are pleased to share tips to help you reduce the impact of stress and improve your mood.
Turn the Radio Up. Studies show that music slows the heart rate and lowers blood pressure when facing a stressful situation. Pick a cheery melody that you can listen to when you're feeling down. Keep a pair of earbuds or headphones handy, and when you start to feel your mood declining, kick up the tunes until you find your proper balance.
Inhale and Exhale. Clear your mind for a few minutes and take a series of deep, cleansing breaths. While you breathe in and out, feel yourself let go of the anxiousness and take in calmness. You can repeat a mantra or chant that brings you inner peace, solace, or joy to help you focus.
Lighten Your Mood. Sometimes seeing an individual who is special to you can give you the motivation you need to turn your day around, so add photos of family, friends, or pets in areas that are more stress inducing. Need more than a still image? There's a reason that the cute hijinks of animals rate as some of the top-viewed videos on the Internet. Click online to something that makes you laugh to lessen the stressful nature of a situation and improve your body's negative physical reactions.
Get Moving. Many studies show that people who exercise regularly benefit from the numerous properties of endorphins, a chemical that occurs naturally in the body and increases in quantity as you exercise. Increase your current level of physical activity to boost your mood and lower your risk of depression.
Talk It Out. When anxiety becomes too much to handle, talk to someone who will listen objectively and respond with sound advice. Confide in a trustworthy friend or family member who can listen to you with an open mind. Sometimes being able to talk and vent about an issue relieves excessive pressure and stress – and gives you another view on the situation. Don't want to share with someone you know personally? Find out if your health insurance provider offers access to clinical professionals who can provide peace-of-mind when anxiety strikes. This information is not intended as a substitute for professional medical care. Please always follow your healthcare provider's instructions. Programs and services are subject to change.
Managed Health Network, LLC (MHN) is a subsidiary of Health Net, LLC. The MHN companies include Managed Health Network and MHN Services, LLC. Health Net and Managed Health Network are registered service marks of Health Net, LLC or its affiliates. All rights reserved.