News
Five Tips for Contact Lenses Safety
Date: 11/01/20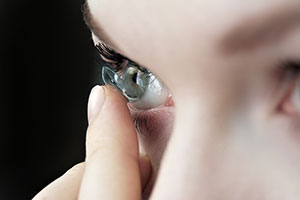 Many people prefer the option of wearing contact lenses to eyeglasses to correct their vision, but choosing contacts means taking the right steps for continued eye health. We are pleased to share five easy tips to help you keep your contact lenses clean and safe to wear.
1. Rinse, Wash, Repeat. It is very important to make sure that your contact lenses are clean. Dirt, dust, and other particles underneath or on top of contact lenses can scratch your eye or the lens, which can lead to infection or serious injury. Take your healthcare provider's advice for proper care of your eyes and contact lenses. Be aware of any discomfort or inability to wear contact lenses, and report back to your care provider about any issues you experience.
2. Add Some (Artificial) Tears to Your Day. Contacts can become dry, but using eye drops can keep them hydrated. Make sure to read packaging labels carefully and use the appropriate eye drops for when you have your contacts in or if you need to take your contacts out. If you frequently experience dryness while wearing your contact lenses, try putting a few drops of moisturizing artificial tears in about 15 minutes before you put in your contacts.
3. Have a Back-Up Plan. There may come a time when your contacts fail you at some point. Whether they are too dirty or dry, or you simply ran out, you should always have a pair of eyeglasses with your current prescription on hand. Your eyes need oxygen to stay healthy, and contact lenses suction to your eyes decreasing the amount of oxygen they get. It is recommended you wear contact lenses for a maximum of 10 hours, five days a week. While everyone enjoys the freedom of contacts, letting your eyes rest is always a good idea!
4. Practice Protection. Depending on your daily routine, some activities may require use of eye protection. Sun glasses, safety glasses and goggles protect your eyes and your contacts from common eye hazards. Depending on activities and how much time you spend outside, purchasing prescription sun-protection eyewear may be a good option for you so you do not have to rely solely on your contact lenses.
5. Contact Your Healthcare Provider. In the case of an emergency, have your eye doctor's phone number on hand if any problems arise with your contacts or with your eye health. You should contact your eye doctor if you notice a change in vision, excessive redness, or if you believe you have scratched your eye. It is also important to keep up with your regularly scheduled eye exams. Exams can help detect eye diseases like glaucoma or cataracts, and they also make sure you have the appropriate accessories to ensure clear vision.
This information is not intended as a substitute for professional medical care. Please always follow your healthcare provider's instructions. Programs and services are subject to change. Managed Health Network, LLC (MHN) is a subsidiary of Health Net, LLC. The MHN companies include Managed Health Network and MHN Services, LLC. Health Net and Managed Health Network are registered service marks of Health Net, LLC or its affiliates. All rights reserved.