News
Stuffed Summer Squash
Date: 06/01/20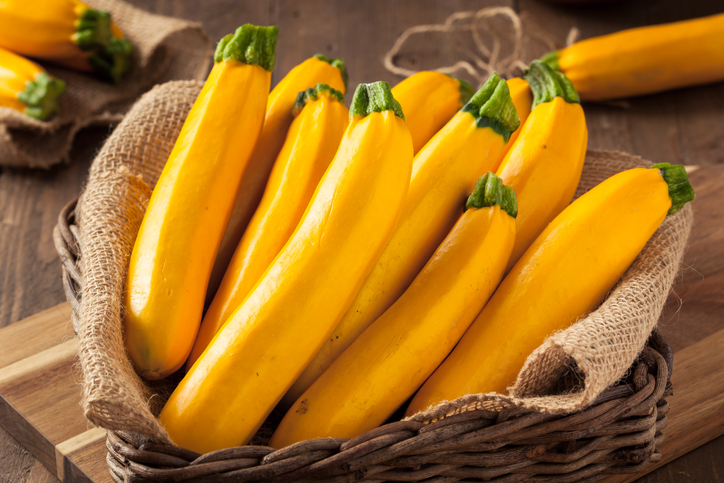 As summer vegetables start to become plentiful, take advantage of farmers markets and grab things like eggplant, yellow squash, peppers, and zucchini for grilling, roasting, stuffing, and adding to salads. This summer squash recipe offers a bounty of filling and nutritious ingredients, along with a short prepping and cooking time. Just 287 calories and 55 g carbs with 3 g cholesterol, 3 g total fat, 6 g sugar, and 194 mg sodium per serving. It's also a good source of calcium at 147 mg, along with 3 g of iron, 824 mg of potassium, and 12 g of protein. Add this to your picnic list!
(Serves 4)
Ingredients:
2 large yellow summer squash (big enough to scoop out the pulp, and use the pulp and shells)
3 cups cooked brown rice
1 cup diced tomatoes
1 cup squash pulp (from summer squash listed above)
1 cup white beans, drained and rinsed
1 tbsp. fresh basil
4 tbsps. Parmesan cheese (freshly grated is best)
Wash and cut the squash in half, lengthwise. Remove the large seeds. Steam the squash, skin side down, in a fry pan or skillet with a small amount of water until slightly tender (but not mushy). Scoop out a good amount of pulp (1 cup), place in a bowl, and mix with all of the other ingredients. Place the squash shells in a baking dish. Stuff the squash with the stuffing mixture. Top with grated Parmesan cheese. Bake at 350°F for about 30 minutes, then plate and serve.
Recipe source: www.choosemyplate.gov
This information is not intended as a substitute for professional medical care. Please always follow your healthcare provider's instructions. Programs and services are subject to change. Managed Health Network, LLC (MHN) is a subsidiary of Health Net, LLC. The MHN companies include Managed Health Network and MHN Services, LLC. Health Net and Managed Health Network are registered service marks of Health Net, LLC or its affiliates. All rights reserved.