News
Fruit & Feta Salad
Date: 07/01/20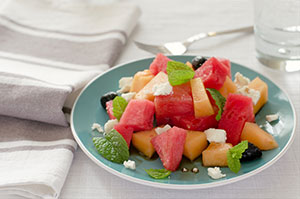 What better way to start the summer than by enjoying all kinds of seasonal summer fruit? Try this super quick and refreshing salad featuring melon and feta cheese. You can substitute any of your favorite fresh-cut fruits, such as grapes, mangoes, and more. Check your local farmers market to get great deals and maybe even try something new!
(4 servings)
Ingredients
For the Vinaigrette:
• 2 tablespoons balsamic vinegar
• 1 1/2 tablespoons olive oil
• 1 dash black pepper
For the Salad:
• 2 cups watermelon chunks
• 2 cups cantaloupe chunks
• 1/4 cup medium red onion, thinly sliced
• 6 cups fresh spinach or arugula
• 1/2 cup reduced-fat feta cheese crumbles
• 1/4 cup pine nuts
Directions
1. Whisk together vinaigrette ingredients.
2. Toss with remaining ingredients and serve.
Recipe source: www.choosemyplate.gov
By Jennifer Herrera
This information is not intended as a substitute for professional medical care. Please always follow your healthcare provider's instructions. Programs and services are subject to change. Managed Health Network, LLC (MHN) is a subsidiary of Health Net, LLC. The MHN companies include Managed Health Network and MHN Services, LLC. Health Net and Managed Health Network are registered service marks of Health Net, LLC or its affiliates. All rights reserved.