News
Indoor Activities for Kids That Don't Include Screen Time
Date: 12/01/20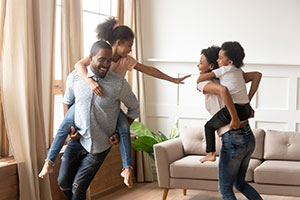 When winter hits many areas of the country, freezing temps and icy conditions make it unsafe for outside playtime. But being stuck inside doesn't mean the only way to keep kids entertained is by sitting them in front of a TV or video game. We have put together a few fun ways to get the kids up and moving without leaving the comfort of home.
1. Stay on Course. Choose a room with some open space, like the living room or basement, and make an obstacle course. Stack up some books to hop over, skip to the end of the room, and set up a jump rope station. Furniture in the way? Incorporate it into the fun as obstacles to run around or leap over! The kids will be laughing and breaking a sweat in no time!
2. Play Musical Chairs. Grab the kitchen chairs, some music and your family for a fun-filled game that will get your blood pumping. In between the laughter, you'll find out who's the most competitive too!
3. Hoop It Up. Clear a space that's free of furniture, sharp edges and breakables then take out the hula-hoop! This old standard is a great way to get kids moving – and it also strengthens core muscles. For a creative twist, have them walk backwards while hula-hooping or spin the hoop around their arms or ankles!
4. Have Farm Fun. Remember animal races from when you were a kid? Bring back some of the classics for your children. Have them bunny hop across the living room, squat and waddle like a duck through the kitchen, and jump like a frog in the hallway. Ask them to imitate the moves of their favorite animal, then have everyone join in!
5. Slide and Skate. Using a room that doesn't have carpet, have the kids don some socks and "skate" through the space. Make a game of it by having your children (or you) challenge each other to see who has the best "ice skating" spin or who can skate the fastest to a certain point. Stay safe and make sure the furniture is out of the way before you start!
This information is not intended as a substitute for professional medical care. Please always follow your healthcare provider's instructions. Programs and services are subject to change. Managed Health Network, LLC (MHN) is a subsidiary of Health Net, LLC. The MHN companies include Managed Health Network and MHN Services, LLC. Health Net and Managed Health Network are registered service marks of Health Net, LLC or its affiliates. All rights reserved.