News
Fireworks Safety: Don't Let a Good Time 'Blow Up' in Your Face
Date: 07/01/20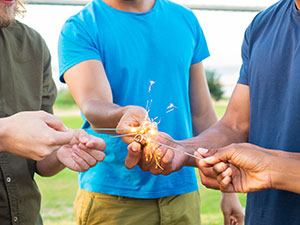 It wouldn't feel like Independence Day without a loud, colorful fireworks display. Still, this year's Fourth of July holiday may be a bit different from previous years. That's because many places have cancelled their professional fireworks displays due to the ongoing coronavirus pandemic.
If you're avoiding large crowds this year and plan on lighting off fireworks from your own backyard, know this — fireworks can be very dangerous!
On average, 180 people go to the emergency room every day with fireworks-related injuries in the summer months. Among the most common injuries are burns and injuries to the eyes and body. These can be very serious.
Follow these tips for using fireworks safely at home:
Never allow young children to play with fireworks. For children who are old enough to use fireworks, always have an adult watching. Even sparklers, which burn at about 2,000 degrees, can be very harmful.
Do not buy fireworks wrapped in brown paper. This could be a sign that the fireworks were made for professional display and are not for use at home.
Light fireworks one at a time, then move back quickly.
Never place any part of your body directly over fireworks when lighting the fuse. Back up to a safe distance immediately after lighting fireworks.
Never try to re-light or pick up fireworks that seem to be "duds."
Never point or throw fireworks at another person.
Keep a bucket of water or a garden hose handy in case of fire.
Never carry fireworks in your pocket.
Never shoot off fireworks from a metal or glass container.
After fireworks have finished burning, soak them with plenty of water from a bucket or hose. Make sure they're cool before throwing them away to prevent a trash fire.
Make sure fireworks are legal in your area before buying or using them.
Just because the world is quite different this year it doesn't mean you can't have some Fourth of July fun. With these tips in mind, you can make sure your Independence Day is a safe one too.
by Jennifer Herrera
Source: Consumer Product Safety Commission
This information is not intended as a substitute for professional medical care. Please always follow your healthcare provider's instructions. Programs and services are subject to change. Managed Health Network, LLC (MHN) is a subsidiary of Health Net, LLC. The MHN companies include Managed Health Network and MHN Services, LLC. Health Net and Managed Health Network are registered service marks of Health Net, LLC or its affiliates. All rights reserved.