News
Eating for Your Sight: Five Foods for Healthy Eyes
Date: 11/01/20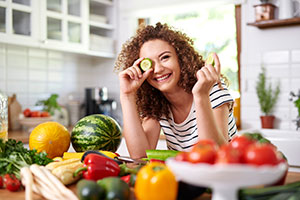 We've all heard the old saying "you are what you eat." But what you might not know is that the foods we consume affect all areas of our bodies, even our eyes. We are pleased to share five delicious tips on how small changes in your diet can promote healthy eyes.
1. Eat a Vegetable Medley. For good vision, consumption of vitamin A is essential. You can find this important vitamin in brightly colored vegetables like carrots, sweet potatoes, pumpkins, corn, bell peppers and tomatoes. Vitamin A contains carotenoids, which are thought to lower the risk of several eye diseases and help prevent night blindness.
2. Go Green. Vegetables like spinach, broccoli, Brussels sprouts and kale are dark greens that contain the antioxidants lutein and zeaxanthin. According to various studies, when consumed in large amounts, those two antioxidants can lower the risk of cataracts and macular degeneration.
3. Look to the Ocean. Fatty fish, including salmon, sardines, mackerel, tuna and herring, is rich in omega-3 fatty acids. Omega-3 fatty acids support cell membranes, which help protect retinas and slow down cataracts and macular degeneration. Not a fan of fish or seafood? Incorporate fish oil supplement capsules into your diet to still reap the benefits of omega-3.
4. Make Meals Berry Yummy. To reduce the risk of macular degeneration and cataracts, considering eating more oranges, lemons, berries and grapefruit. Citrus fruits and berries have high quantities of vitamin C, which is linked to healthier blood vessels, including those in eyes.
5. Have a Sunny Side (Up). Celebrate brunch by cracking open some eggs for lutein, zeaxanthin, vitamin A and zinc, which reduce the risk of macular degeneration and cataracts. The vitamin A can also provide protection against dry eyes and night blindness.
This information is not intended as a substitute for professional medical care. Please always follow your healthcare provider's instructions. Programs and services are subject to change. Managed Health Network, LLC (MHN) is a subsidiary of Health Net, LLC. The MHN companies include Managed Health Network and MHN Services, LLC. Health Net and Managed Health Network are registered service marks of Health Net, LLC or its affiliates. All rights reserved.