News
Holiday Season Healthy Eating – Yes, it Can be Done!
Date: 12/01/20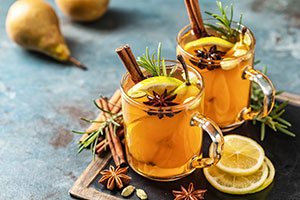 The holidays are quickly approaching, and for many people all over the world, this is a time to indulge. We have developed five tips to help you prepare ahead of time, limit holiday binges on all those culinary temptations and start the New Year off on the right foot.
1. Watch what you eat. Instead of eating all the menu has to offer, choose a couple of your favorites. Try to keep all your choices in balance, meaning that if you choose the most decadent dessert don't also choose the deep-fried appetizers. Be selective about what you put on your plate and be mindful not to overeat. Additionally, if the party is potluck style, a quick online search or trip to the bookstore can provide you with some delicious, healthier substitutions for your favorite holiday dishes.
2. Don't drink (as much). The holiday season can be filled with spirit – and sometimes spirits! Don't get caught up in the social aspect of drinking and consume too much of an unhealthy beverage. Beverages like eggnog taste great but can be loaded with calories and fat. Alcohol is empty calories and an appetite stimulant, so it makes you more likely to eat more. Choose a few of your favorite celebratory libations and sip on some water in between. This is a great tip not just during the holiday season but throughout the year.
3. Don't be a couch potato. During the holiday season, once your belly is full and your stress levels are up, it can be easy to put off exercising and just chill out. Use the cold weather as an excuse to start a new type of activity you've always wanted to try. Don't wait until New Year's Day to make a resolution to exercise! Start today and continue throughout the holidays. Your body will thank you – and you'll be one up on those resolutions!
4. Moderation is key. Don't let the overabundance of celebrations, treats and goodies get the better of you. The goal of eating meals is not to feel bloated and/or full until you cannot possible eat anymore; the goal is to feel like you just ate the right amount, not too much and not too little. And during the holidays, it's ok to indulge here and there – just not at every meal or celebration!
5. Catch Some Zzzzs. The holiday hustle and bustle can take a toll on your sleep schedule. Studies show that decreased shut-eye contributes to increased calorie intake. Being tired drives poor food choices such as extra caffeine, sugar and junk foods. So get some sleep and make your holidays the healthiest ever!
This information is not intended as a substitute for professional medical care. Please always follow your healthcare provider's instructions. Programs and services are subject to change. Managed Health Network, LLC (MHN) is a subsidiary of Health Net, LLC. The MHN companies include Managed Health Network and MHN Services, LLC. Health Net and Managed Health Network are registered service marks of Health Net, LLC or its affiliates. All rights reserved.