News
Five Health Tips to Protect Yourself This Holiday Season
Date: 12/01/20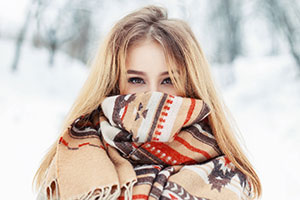 The holidays bring with them more time to spend with family and friends. But that increased interaction can also put you at risk for picking up illnesses such as a cold or the flu. We put together some precautionary measures to help you ward off inconvenient sickness and enjoy the holidays in good health.
1. Scrub Smartly. You want to exchange gifts for the holiday, not annoying germs. Staying healthy during the holiday's starts with thorough hand washing. This simple step can be one of the best ways to decrease your chance of catching air-borne illnesses. Cleanse your hands for 30 seconds with warm water and soap before handling food, after using the restroom and after you come in contact with public surface areas.
2. Bundle Up. Before you and your loved ones head outdoors to play, make sure everyone is dressed in warm, dry clothing to properly combat winter weather. Wearing layers and making sure you cover your head, arms and feet will keep your body temperature elevated and protect against frostbite and hypothermia.
3. Boost Your Immune System. A well-balanced diet with fruits and vegetables, plenty of shut eye and daily exercise all contribute to you feeling your best during the winter months. For an extra boost, ask your healthcare provider about vitamin supplements that may help fight against germs and bacteria.
4. Sanitize for Safety. Clean your bathroom and kitchen surfaces frequently with warm, soapy water to prevent the spread of germs. Disinfectant wipes and sprays are easy and effective ways for a quick surface cleanup. Consider leaving a few bottles of hand sanitizer in high-traffic areas, on food prep stations and on your dining table to encourage friends and family to freshen their hands.
5. Celebrate and Enjoy. After you've put precautions in place to avoid illnesses, make sure you relax and appreciate this special time of year. Good health equates to a better quality of life and longer life spans – which means even more holidays to make joyful, lasting memories.
This information is not intended as a substitute for professional medical care. Please always follow your healthcare provider's instructions. Programs and services are subject to change. Managed Health Network, LLC (MHN) is a subsidiary of Health Net, LLC. The MHN companies include Managed Health Network and MHN Services, LLC. Health Net and Managed Health Network are registered service marks of Health Net, LLC or its affiliates. All rights reserved.