News
Thinking about recovery
Date: 05/01/21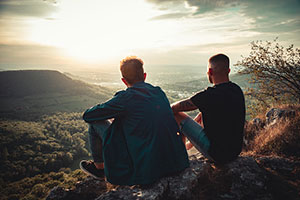 Everyone has a different way of coping with the emotional ups and downs of dealing with behavioral health or recovering from a substance use disorder.
Here are some ways you can help yourself during this time:
•  Talk with others and share your feelings when problems come up.
• Look for information and solutions.
• Look for the humor in things.
•  Give yourself a break from thinking about your addiction and/or diagnosis.
• Keep busy with positive activities.
•  Go over your recovery skills often and make changes right away if needed.
• Reach out to others regularly.
•  Talk with people and join in activities that you enjoy.
•  Learn and use relaxation and stress management skills.
The more of these skills you can use, the better able you are to stay in recovery.
Negative thinking. These are ways people sometimes think about themselves, situations, or feelings. Negative thinking does not lead to any solutions or good feelings. Sometimes this thinking will also drive people away from you just when you need them the most.
Examples of Negative Thinking:
• " I think this is probably my destiny. There is nothing I can do about it."
• " When I am upset, a drink or using drugs helps me calm down."
• "I wish people would leave me alone."
• " I must have done something bad to deserve this."
• " Having problems is bad enough, but no one knows how to help me."
Try some of these instead:
• "This is hard, but there is a lot of help available."
• " When I am upset I can use my coping skills. I can handle it."
• " I know there are people that want to help and do care about me."
• "I deserve health and satisfaction in my life."
People may feel anxious, sad, fearful, or overwhelmed when they are dealing with behavioral health or recovering from substance use disorder. These, along with many other feelings, are normal reactions that may last from a few days to a few weeks. These feelings may come and go. If you are having difficult feelings, remember it will not last forever. A therapist or support group can help you figure out how to best deal with these feelings. If you need help, ask for it!
Resources: www.samsha.gov
This information is not intended as a substitute for professional medical care. Please always follow your healthcare provider's instructions. Programs and services are subject to change. Managed Health Network, LLC (MHN) is a subsidiary of Health Net, LLC. The MHN companies include Managed Health Network and MHN Services, LLC. Health Net and Managed Health Network are registered service marks of Health Net, LLC or its affiliates. All rights reserved.