News
Navigating the Holidays
Date: 11/01/22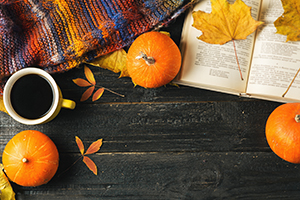 Thanksgiving is the traditional kick-off of the holiday season. Many of us look forward to the holidays as a time for fun, feasting, and getting together with friends and family. But as joyous as the fall and winter holiday season can be, it can also be stressful. Our expectations for holiday celebrations can be hard to meet, putting pressure on everyone. Because your plate may be full (in more ways than one), we have put together a few tips to help you celebrate a stress-free, gratitude-filled, and healthy holiday season.
How can I lower my stress levels around the holidays?
Holiday stress comes at us from a lot of directions – social demands, party preparations, money, family drama. Some suggestions for protecting your mental health during the holidays might include these as suggested by the American Psychological Association, National Alliance on Mental Health, and the Mayo Clinic:[1][2][3]
Be realistic. The holidays do not have to be perfect. Mistakes are just mistakes – no one's holiday will be ruined if the potatoes are lumpy. And traditions are just traditions, they aren't rules. If there are some things that are especially important to you, hold on to them if you can, while letting some others go or creating new ones.
Plan ahead. Set aside time for shopping, baking, and socializing. Spread out your errands so you aren't doing them all at once. By planning ahead, you can avoid the stress that comes with rushing around at the last minute.
Learn to say no. Know your limits when it comes to gathering. Don't let yourself feel like you must attend an event or overbook yourself to make others happy. You are entitled to think about your needs, too.
Take time for yourself. Taking care of yourself is important. Reducing your stress level is good for your health and lets you bring your best self to the people you love. Continue your healthy habits, like getting plenty of sleep and exercising, and avoid too much alcohol, tobacco, or drug use. Your body will thank you for it later.
Stick to a budget. Be aware of your financial situation. Decide how much you can afford to spend, then stick to your budget. Don't add financial stress to holiday stress.
Acknowledge your feelings. Many of us feel like we should only be happy at the holidays. But it's normal to feel sadness and grief if someone has died, or if you can't get together with people you care about. Understand that being sad is ok and take the time to express your feelings.
Taking control
If you are still feeling overwhelmed by the holidays and need help, contact your EAP. We can refer you to a therapist who can help at no cost to you.
[1] Stress, depression and the holidays: Tips for coping - Mayo Clinic
[2] Avoiding Holiday Stressors: Tips for a Stress-Free Season | NAMI: National Alliance on Mental Illness
[3] Making the most of the holiday season (apa.org)