News
Season of Gratitude
Date: 11/02/21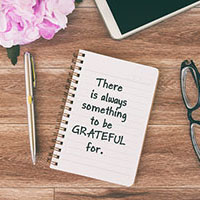 With Thanksgiving around the corner, many of us are taking a moment to be thankful for the good things in our lives. But what if we took the time to think of these things more often? Could it have a positive effect on us? It just might. In fact, some researchers think that having a "gratitude practice"—being grateful for the good things in life—might improve both our physical and emotional well-being.
The Health Benefits of Gratitude
Studies have shown that gratitude increases happiness and decreases depression. Some other benefits of gratitude include:
Reduced stress. Being grateful can help reduce stress by lowering the levels of stress hormones like cortisol in your body.
Improved physical health. Grateful people report feeling healthier than other people. They are also more likely to exercise, see their doctor regularly, and eat better, and are less likely to smoke or drink too much. Researchers at the University of California San Diego found that keeping a gratitude journal was linked to fewer signs of heart disease.
Better sleep. One study reported that people who wrote in a gratitude journal before bed slept longer and better than those who didn't.
Improved self-esteem. Too often, we compare ourselves and our lives to what others show us on social media—and we feel like we aren't "good enough". Feeling grateful for what you have can help break that pattern.
Better relationships. A National Institute of Mental Health study showed that couples who expressed gratitude to each other felt happier in their relationships, and were more likely to still be together at the end of the study.
How do I Create a Gratitude Practice?
Gratitude isn't about ignoring the bad things in life, it's about noticing the good things. So the first step in creating a gratitude practice is paying attention to those good things. These don't have to be big—maybe it's the smell of fall leaves, an easy commute into work, or the friend who was there when you really needed to talk. Any of these are things to be grateful for, and you probably can think of a lot more.
When you have noticed some things you're grateful for, take a moment to enjoy them. Enjoy the positive feelings that come up when you think of them. That's a gratitude practice! For some people, gratitude practices increase their positive emotions and help them better cope with stress. Here are some other suggestions for ways to be grateful every day:
Journal. Write down some things you're grateful for—remember, they don't have to be big!
Be aware now. Try to notice positive moments when they're happening.
Relive the good times. Relive positive moments later by thinking about them or sharing them with others.
Write to someone. Write a letter to someone you feel thankful toward. You don't have to send it.
Make a visit. Tell someone you're grateful for them in person.
Gratitude practices aren't for everyone, and developing one won't make all your stresses instantly disappear. But for many people, it can have a positive impact by boosting mood and creating hope. And maybe that's worth a few minutes of your time.
Written by Cindy Maxim
SOURCES: HHS
This information is not intended as a substitute for professional medical care. Please always follow your healthcare provider's instructions. Programs and services are subject to change. Managed Health Network, LLC (MHN) is a subsidiary of Health Net, LLC. The MHN companies include Managed Health Network and MHN Services, LLC. Health Net and Managed Health Network are registered service marks of Health Net, LLC or its affiliates. All rights reserved.