News
It's a Winter Wonderland (But Play it Safe!)
Date: 01/06/20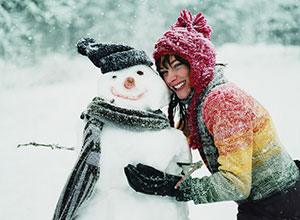 Winter brings with it the option to embrace the colder temperatures (and, in some areas, the snow or ice) for outdoor fun. The season can do a number on your skin, in terms of dryness (or even frostbite, if you're not careful). Outdoor sports, from ice-skating to sledding, can also put you in harm's way for other injuries, if you don't protect yourself.
Before you hit the rink or slopes (or the sidelines, sipping hot chocolate to watch the action!), keep these tips in mind before you take on the Great Outdoors during wintertime:
Protect your skin. Use mild detergents. Opt for warm not hot showers. Don't forget the SPF 30 sunscreen! The sun can do damage — even in winter. Lather on a light moisturizer with SPF 30 sunscreen to protect against UV (ultraviolet) rays that can cause skin wrinkling and skin cancer. Don't smoke (any time of year)! Besides causing disease, smoking narrows blood vessels and depletes the skin's nutrients and oxygen. It damages collagen and elastin, contributing to wrinkles. It also discolors skin (along with fingers, nails, and teeth).
Dress in loose layers. Bundle up for warmth, but also make sure that you can move well. Cover ears and neck with a hat and scarf, or earmuffs. Choose mittens for hands, and warm socks, covering ankles. Change out of wet clothing right away. Damp skin increases the risk of frostbite. (Children, seniors, and those with poor blood circulation have greater frostbite risk.) If ears, nose, fingers, hands, feet, or toes start feeling numb (or they turn red, blue, or white), get inside and get medical help ASAP.
Wear the right safety gear for the outdoor sport you enjoy. Helmets, goggles, wrist guards, plus elbow and knee pads provide added protection. Make sure they fit properly. Choose to wear bright colors so that you're easily visible.
Don't forget the sunglasses to shield eyes from glare and wind. Choose 100-percent UV-protective sunglasses. (Try wrap-arounds.) Some helmets may include visors that shield and protect eyes, too.
Always obey safety precautions and signage. Don't skate on thin ice. Don't hike, skate, ski, or snowshoe alone. Tell someone where you're going, and carry a cell phone. Use a steerable sled for more control (instead of snow saucers, or inner tubes). Sled feet first or sitting up, instead of head first, laying down. Avoid crowds. Bypass icy conditions or obstacles in the snow, as well as too-steep inclines.
Teach kids how to do activities the right way. Make safety a priority.

Don't chew gum or eat candy while active. Both are choking hazards.
Parents: Watch your kids as they play! Know where to get help if needed.
Set outdoor playtime limits. Kids need breaks to warm up when chilled. Have other activities at the ready once they're inside, too, like board and card games, or family movies.
Remember the rules of eating healthy, exercising (30 minutes each day, five days per week), and getting enough sleep (at least seven hours of shut-eye nightly for adults; at least nine to 11 hours for ages six to 13, and eight to 10 hours for teens age 14 to 17). These habits can help with energy, flexibility, weight, and cell growth, when applied all year 'round!
By Lisa Miceli Feliciano
Sources include: www.aad.org, www.aao.org, www.aap.org, www.cancer.org, www.mayoclinic.org, www.sleepfoundation.org
This information is not intended as a substitute for professional medical care. Please always follow your healthcare provider's instructions. Programs and services are subject to change. Managed Health Network, LLC (MHN) is a subsidiary of Health Net, LLC. The MHN companies include Managed Health Network and MHN Services, LLC. Health Net and Managed Health Network are registered service marks of Health Net, LLC or its affiliates. All rights reserved.