News
Mini Pear and Goat Cheese Tarts
Date: 01/06/20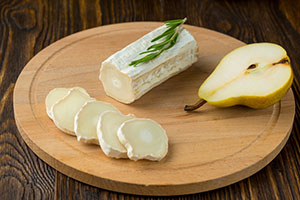 (Serves 7)
These tasty tarts could be the hit of your holiday party (or your host's, if you're bringing one of the appetizers)! The tarts couldn't be simpler to prepare (just seven minutes!), especially with the pre-made, mini tart shells. Each two-tart serving is just 90 calories, 11 g carbohydrates, less than 5 mg cholesterol, 4 g total fat, 75 mg sodium, with 3 g protein. They'll look pretty served on a platter, at holiday time, or anytime.
Ingredients:
14 mini fillo tart shells
1 1/2 cups Bosc pears (diced with skin on; about 2 small)
2 oz. goat cheese
2 egg whites
1/4 tsp. black pepper
1/4 cup balsamic vinegar
Preheat oven to 350 degrees. Arrange thawed fillo cups on a baking sheet. Set aside. In a medium bowl, mix together pears, goat cheese, egg whites, and ground black pepper. Fill each fillo cup with a heaping tablespoon of pear mixture. Drizzle the top of each tart with a little balsamic vinegar. Bake for 15 minutes. Serve hot or room temperature.
Recipe source: www.diabetes.org
This information is not intended as a substitute for professional medical care. Please always follow your healthcare provider's instructions. Programs and services are subject to change. Managed Health Network, LLC (MHN) is a subsidiary of Health Net, LLC. The MHN companies include Managed Health Network and MHN Services, LLC. Health Net and Managed Health Network are registered service marks of Health Net, LLC or its affiliates. All rights reserved.